Looking For Husqvarna Forward Plate Compactors For Soil?
Husqvarna forward plate compactors come in a variety of sizes but they all have one thing in common – uninterrupted uptime. Designed to compact thin to medium layers and specialized for granular soils, Husqvarna's forward plate vibratory compactors use high centrifugal forces to settle gravel and silt at high speed. All LF compactors come prepared from the factory for block paving kit installations to protect cracking surfaces.
Forward plate compactors are useful in tight-fitting scenarios that allow for the machine to be moved forward without obstacles. Many forward plate compactors have the option of a detachable water tank that feeds cool water to the plate to prevent asphalt from sticking. These can be classified as either specialized forward or reverse plate compactors.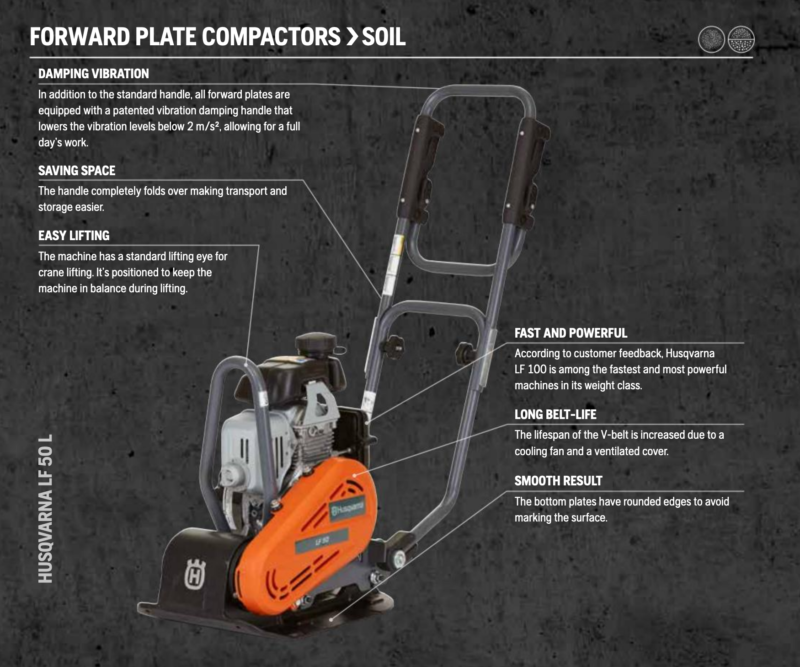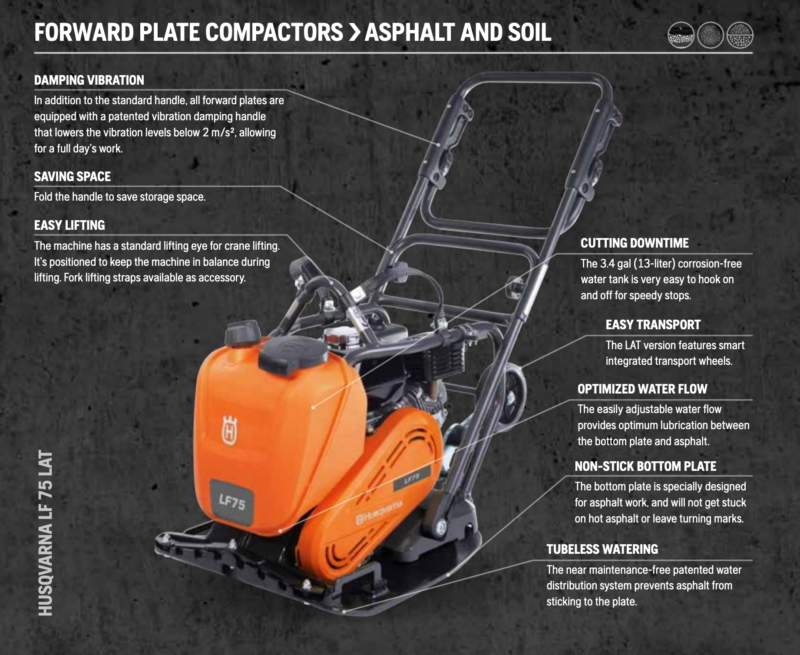 Looking For Husqvarna Forward Plate Compactors For Asphalt?
These lightweight machines are perfect for small jobs and repair work. In the context of compacting large asphalt areas however, forward plate compactors are not always the best choice. Reversible plate compactors are the next step when the jobsite gets too big.
If you're working on asphalt, your compactor needs to keep up. Improper compaction of the subsurface or asphalt surface itself can result in costly repairs and unending headaches as you watch your prize investment disappear within a year. Husqvarna's asphalt-specific forward plate compactors can handle the pressure and keep things cool with removable water tanks and optimized water consumption.
Looking For Smaller Husqvarna Reversible Plate Compactors?
Husqvarna reversible plate compactors have a reputation for having some of the best traction on granular soils in the modern market, particularly in wet soil. The engineering and craftwork that went into the small to medium size reversible compactor lineup by Husqvarna shows itself through high-speed, high-precision compacting, even on rough surfaces.
Especially designed with a lower operating mass and revolutionary ergonomic design, Husqvarna's reversible plate compactors can produce as little as 1.7m/s² in hand vibration from a diesel engine. Driveways, pathways, private home projects and narrow trenches are the perfect place for smaller compactors, while larger projects like asphalt lots, sport courts, and industrial repairs would benefit from the more mid to large sized reversible plate compactors from Husqvarna.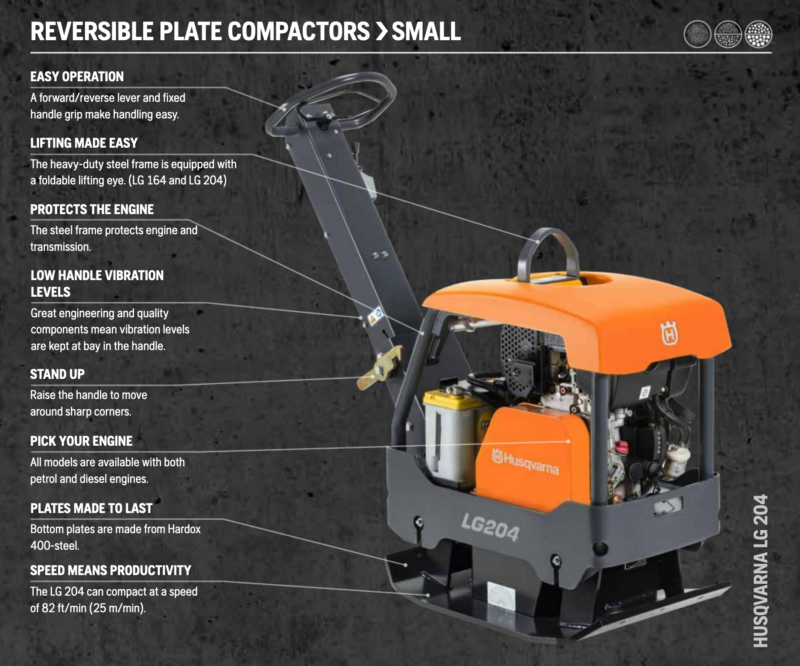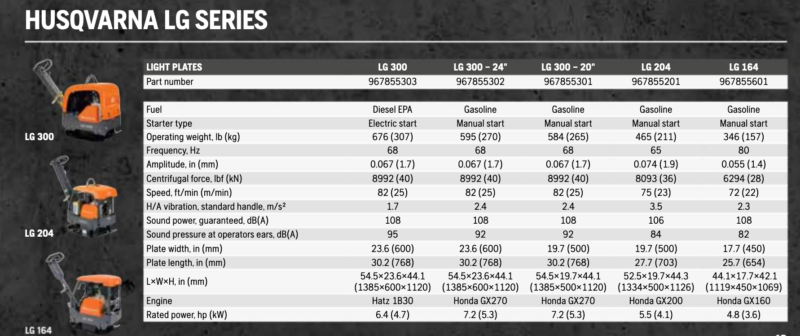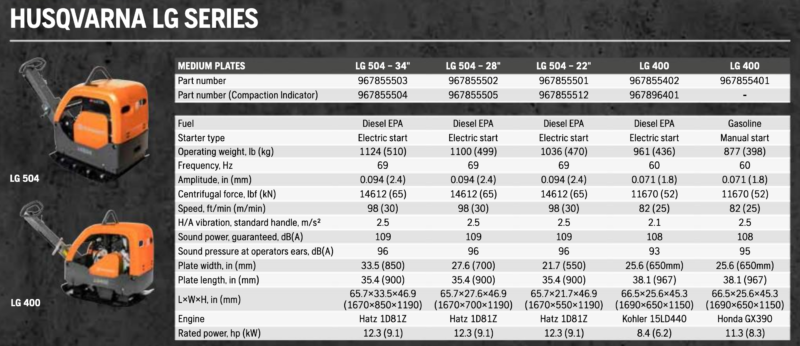 Looking For Larger Husqvarna Reversible Plate Compactors?
Larger reversible plate compactors are great for use in base or sub-base compaction applications. Their heavier weight allows greater static load on the surface while the motor generates vibrations to jostle granular soils into a structure. Despite their heavier weight, even mid-sized reversible plate compactors are fairly agile on the jobsite. The old adage of letting the tool do the work rings true especially as the compactor weight goes up, so proper technique while compacting should be a consideration for a healthy operator. Other considerations for the healthy operator are taken by Husqvarna themselves with their ergonomic anti-vibration handle design, easy-transport wheels, reinforced lift hooks, and heavy-duty steel frame.
Husqvarna's compaction equipment is developed for maximum productivity, performance, and durability. Every detail in your machine – from the ergonomic, vibration-damped handles to the hard, wear-resistsant steel surface beating the soil – is designed to get the job done with maximum uptime and minimum service requirement.
By designing products that focus on operator efficiency, Husqvarna compaction equipment provides the key to your business' high production-rate, high-quality goals. The ergonomic design allows for easy handling and drastically reduced vibration in the operator's hands and arms, generating higher operator efficiency with less stress on the body.
Husqvarna rammers are built to take on the toughest soils mother nature has to offer. Clay and silt require tremendous, high-speed impact to get the job done, and the LT5005 and LT6005 are the tools to make it happen. Ideal for trenches, ditches, and other tight-quarters situations, Husqvarna rammer engines are purpose built for the task at hand. Lightweight, extremely durable, and easy to transport, with regular service a Husqvarna rammer can ensure less downtime and generations of service.
Looking For Husqvarna Rammer Compactors?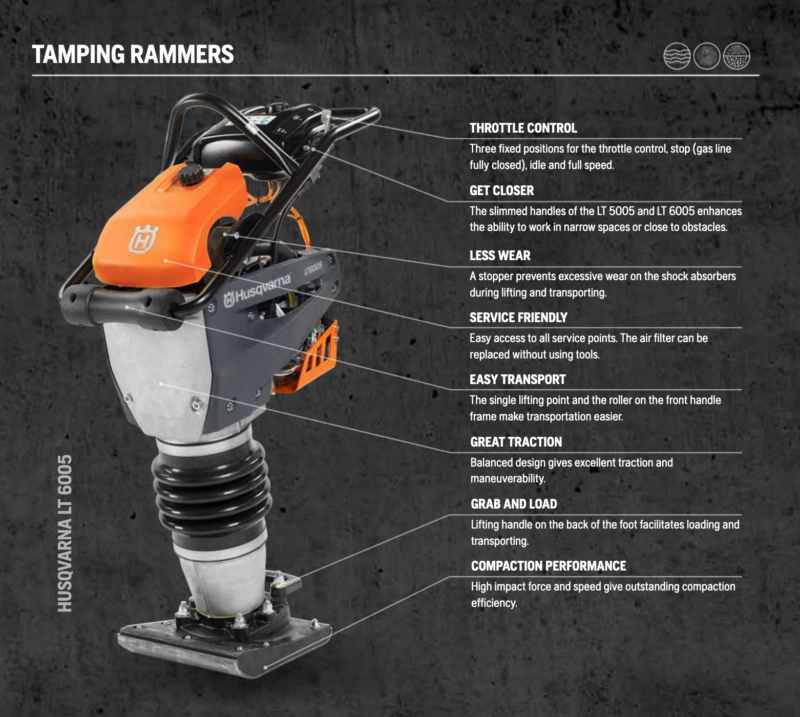 Looking For Husqvarna Compaction Equipment?
Our industry experts source direct from the manufacturer and can help you discover the right Husqvarna compaction equipment for your job at hand. From the lightweight LF50 to the reversible LG504, we cover the entire Husqvarna compaction line and offer fair shipping costs throughout Canada. Use the contact form to get in touch today.
USA customers are encouraged to email info@hardwareunlimited.ca to find suitable shipping options, or use the contact form beside.